4 tips to look more natural in front of the camera
We all know a friend who always looks good in pictures. Whether it is photogenic in front of a sublime sunset in Bali, why not, the light and the joy of being on vacation helping a lot to make us shine. But when he continues to look good when it's a drunken late-night image or worse a video of him waking up after a night in a wet camping tent, then it gets annoying!
If you too, in almost any image or video, find yourself too smiling to be natural, staring sleepy or even a little scary at times, rest assured we are very many in this case.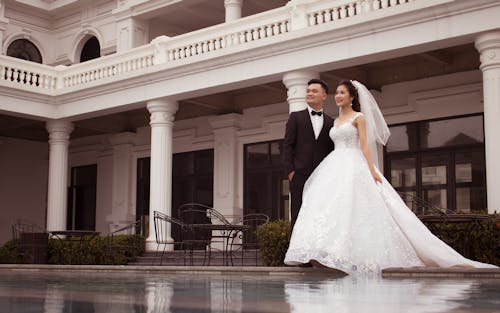 Choosing to make a wedding video by a videographer will be the most magical and vivid memory that you will have once the big day has passed. However, on your wedding day you will most likely be in front of the camera, it will be hard to run away from it this time around.
So, I thought you might like 4 tips to be more comfortable in front of the camera.
If you follow them, you will certainly look sincerer and the sequences will be more natural.
It's up to you to play the bride and groom!
Relax
Yes, I know I know, it's easy to say.
The wedding is an event that generates a lot of stress before the big day, but the big day happens only once, so please, release the pressure. You have everything planned out, and there will certainly be surprises, but they will all be good, be sure.
The best advice to give to the bride and groom is to forget that they are being filmed. Try not to think that there are cameras around you, just stop thinking and focus all your energy on having a good time with your other half.
A successful wedding video in my opinion is a video with relaxed couples who ignore us completely or almost completely.
We seek to capture moments of lives, of families who share a unique moment. No need for more. Let yourself go and enjoy this day, a good videographer will be forgotten.
Have confidence in yourself
Self-confidence is hard to fake, and it is easy to see whether a person is good in their sneakers or not.
So, to make your wedding video look as cool as you are in "real life", it's important to remember that on this day you have every reason to be 100% confident.
First of all, Mr. Groom, because you are handsome. You have certainly bought a brand-new costume for the occasion, beautiful accessories for a touch of originality, and new shoes never worn before.
If you are the bride, the choice of dress has taken a big place in planning your wedding and it is certainly lavish. You took care to choose the ideal shoes for your wedding, and you spent at least 2 hours doing your hair and makeup to be the queen of the day.
You are both amazing, and besides the aesthetic aspect, you are going to experience one of the most unforgettable moments of your life. All your family and friends are gathered for and around you. All the ingredients are there to make you happy and confident.
If you own your wedding, it will make a huge difference and your videos will look even better.
Trust your videographer
Unless you have decided to call on Uncle René for the production of your wedding video, you have hired a professional.
Whichever way you chose your videographer, you have been charmed by his work and he has already worked with many couples, all with different personalities.
The best thing to do is therefore to let yourself be guided and to enjoy the ride.
He will certainly give you advice, follow it and free yourself from one thing to think less.
Before the wedding, get to know your videographer
Some couples prefer to stick with a purely professional relationship, and that is understandable.
Nevertheless, a couple who feel perfectly at ease with their provider, and who can talk to them or joke, will be much more comfortable in front of the camera, and we will get better videos.
A word of advice, break the ice and facilitate informal relationships with your videographer, he will dare more things and you will also be by extension more relaxed too.
So, if you're like many newlyweds, anxious to be filmed all day, hopefully some of the tips mentioned will help you feel more comfortable in front of a camera.
So, the keys to achieving the best wedding video: trust your videographer and get to know him a little before,
Also, relaxing and having confidence in you will allow you to relieve stress and live this beautiful day with serenity.
I think you are ready now, so smile you got filmed!