How can I feed my French Bulldog?
Originally, the French Bulldog breed is a derivative of the English Bulldog. The French Bulldogs were at one time used as fighting dogs. At the end of the 19thTh century, English lacemakers emigrated to France, as many lace factories opened their doors there. They took their English Bulldog dogs with them to France, crossed them with other dogs, and began breeding the French Bulldog breed. In France, this playful, friendly, and cheerful dog has enjoyed a good reputation for years.
French Bulldog's diet: when balanced food rhymes with good health
The French Bulldog is a small dog that, depending on its size, weighs between 8 and 14 kilos. It is essential to choose a food perfectly suited to the needs of French Bulldog puppies, especially with regard to caloric intake. If this parameter is not met, puppies may gain weight too quickly relative to their growth curve. This then generates a weakening of the bone structure of the little French Bulldog, which in turn can result in a misalignment of the limbs on an already naturally stocky body.
For a good start in puppy life, pay attention to balance, energy intake, minerals, vitamins and trace elements of your French Bulldog's food.
In terms of quantity regarding food for French Bulldog,your bearing must be the weight of the dog. For the Bulldog puppy, adjust the amount of food according to the evolution of its weight and for the adult dog, according to the recommendations based on the average weight of the dogs of the breed. To do this, use the average weight of an adult Bulldog, whether male or female, as an indicator. The amount of food for the puppy and the adult bulldog will also depend on the level of activity of the dogs.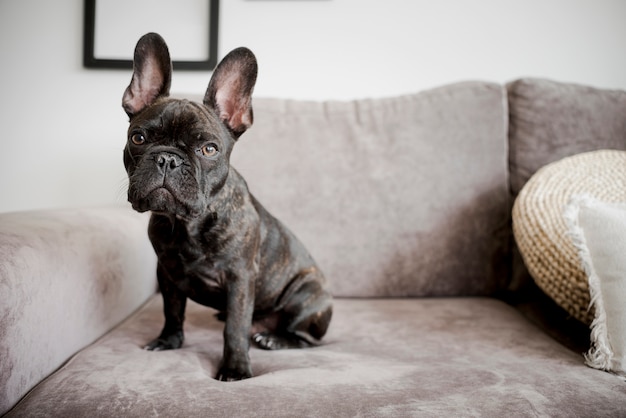 What food for my french bulldog baby?
The croquettes Lukullus Junior are recommended for French Bulldog puppies. In a few ways, here are the advantages of this range of puppy nuggets:
Balanced food containing all the essential nutrients
No artificial flavouring, artificial coloring or preservatives
Optimal calcium/phosphorus ratio
Low carbohydrate content for adequate caloric intake
Enriched with flaxseed oil, rich in omega 3 and 6 fatty acids
Lukullus Junior chicken and salmon croquettes. Lukullus dog kibbles are cold pressed to preserve the quality of the ingredients. The croquettes Lukullus Junior chicken and salmon have many advantages for French Bulldog puppies:
Lukullus dog kibbles are cold pressed to preserve the quality of the ingredients
Contain high-quality digestible proteins from chicken and salmon
Nutrient preservation through cold pressure
Balanced calcium/phosphorus ratio
Quality carbohydrates (full rice)
The daily portion of puppy croquettes should always be divided into different portions. Also, make sure your puppy always has fresh water at your disposal.
Food for adult French Bulldog
When your French Bulldog reaches adulthood, it is necessary to adapt its food accordingly. The French Bulldog is a dog that tends to be overweight. He loves long walks, on any type of trail, but he's not made for it! It's better to let your French Bulldog frolic on the lawns than to take him on sports walks. This is due to its anatomy, in particular its stocky appearance and short snout which often generates problems of breathing and temperature regulation. However, it is important to allow your French Bulldog to move enough to maintain a stable weight and stay in shape.
Since it is always essential to reward your companion, use Croquettes or Snacks low in fat as a treat. Ideally, deduct the number of daily treats from your Bulldog's food ration. Your Bulldog's food should have low fat and carbohydrate levels to maintain a stable weight. The wet canned food is particularly advisable, as its moisture content is higher, compared to dry food in the form of croquettes. It is estimated that the moisture content of dog canned food is 70%. Also, canned food has a larger volume and fills the stomachs of the gourmets that are the Bulldogs. Canned food is less energy-rich than croquettes. This can be especially beneficial for dogs that tend to gain weight.